What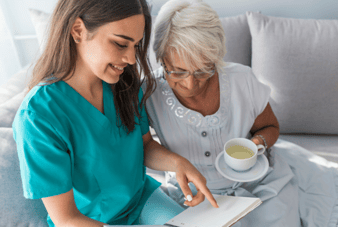 is home health? Who pays for homecare services? If you find yourself asking these questions, you're not alone. Before you make decisions about providers and what care is needed, it's important to understand the difference between homecare and home health. While both of these services are dedicated to supporting the health and well being of older adults, they serve different functions and have different regulations.
We've highlighted the main differences between these important elder care services, providing you with an easy guide to understanding homecare and home health. So you can make informed decisions about your or your loved one's care.
---
Definitions
Some organizations use these terms interchangeably, but they are not the same. Here is a brief definition of each of these services:
Homecare is a supportive, non-medical service provided in the place of residence (home, retirement community, rehabilitation center, etc.) for the purpose of promoting and maintaining the individual's independence, well being, and quality of life.
Home Health is a clinical, nursing or therapeutic service (or combination of) that is physician ordered and is provided in the place of residence (home, retirement community, rehabilitation center, etc.)
---
Services Provided
Depending on what agency you are working with you may see some crossover between the services provided. For example, some homecare agencies are also licensed in home nursing and provide wound care and other clinical services that you find in the home health model. Despite this, homecare and home health have distinct service offerings, and these are the types of services you can generally expect:
Homecare includes supportive / non-medical care to assist with the activities of daily living (ADL), and may include:
Assistance with bathing/dressing

Meal preparation

Medication reminders

Laundry / housekeeping

Transportation / assistance running errands

Incontinence care / assistance with toileting

Companionship



Home Health services are clinical / medical and are performed by a CNA, skilled nurse or licensed therapist, and may include:
Wound care

Health monitoring

IV therapy / injections

Skilled nursing

Physical, occupational & speech therapy

Disease management

Pain management
---
Who Pays for Service?
This is perhaps the most common question when it comes to understanding home care and home health. Who pays for care services? Some agencies work with VA benefits and other financial providers, so be sure to ask for details when researching providers.
Homecare is generally private pay, meaning the client or client's family arranges payment. Some long term care insurance covers the cost of home care, check with your insurance provider to confirm what's covered.
Home Health is generally covered by Medicare, provided you meet eligibility requirements and your doctor certifies that home health is needed. Your state's Medicaid program or private insurance may cover home health care, or some of the services that Medicare doesn't cover. Check with your state Medicaid program of insurance carrier to learn more about specific coverage and eligibility requirements.
---
Setting Up Services
Now that you understand what options are available to you, the next step is to research various agencies in your area to set up services. Note that homecare services can be initiated at any time, while home health requires your physician's order to begin services. Here are a few things to consider when setting up services:
Homecare is a growing industry, which means you have plenty of options when it comes to arranging care. Be sure to choose a licensed agency with a reputation for providing exceptional care.
Home Health must be prescribed by your physician, however you have the right to select the home health provider of your choice. Not all agencies are the same, so be sure to do your due diligence when selecting a home health agency.
---
Frequently Asked Questions
Q: Can I use both homecare and home health?
A: Yes! Home health and home care can be used simultaneously. In fact, home care is often used to support and supplement the care provided by home health. For example, the home health nurse can set up medications, and your caregiver can remind you to take them.
LifeStyle Options carries both homecare and home nursing license, which means we can also provide some of the same nursing services offered through home health, as needed.
Q: When is the best time to set up homecare services?
A: Most people do not begin researching or coordinating these services until the need is acute. Unfortunately, this can leave you scrambling to find resources at the last minute. Ideally, you should begin making home care arrangements when the activities of daily living first become challenging. With proper care, older adults can remain independent at home longer.
Home care is also a helpful option for those that have recently been discharged from the hospital, rehab center or long term care facility, ensuring that needs are met during the critical recovery process.
Q: How often are home health services provided?
A: Home health needs are determined by the physician, and the services provided and frequency of care depends on the plan of care coordinated by your doctor.
Homecare on the other hand can be scheduled at your convenience as often as care is needed.
Q: Can I save money by using a private caregiver?
A:Hiring a private caregiver may seem like a less costly alternative to a private duty agency, however, it carriers a far greater risk than most people realize. From insurance liability to taxes, it's important to educate yourself on the risks of hiring a private, unlicensed caregiver.
---

About LifeStyle Options: An Addus Home Care Company
Founded in 1989, LifeStyle Options is one of the largest licensed, private duty home care agencies in Illinois. With highly experienced and trained homecare professionals, CNAs, and RNs on staff, they have earned a reputation for providing exceptional service to clients throughout the Greater Chicagoland area, enabling older adults to safely remain in the comfort of their own home.