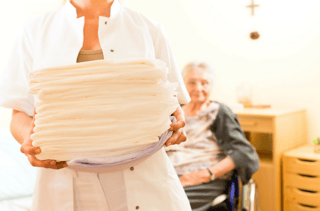 With the costs of healthcare climbing, many older adults find themselves in a vulnerable and worrisome situation when it comes to getting the assistance they need. In an effort to cut costs, some are turning to third-party caregivers for their home care, but does the cost savings outweigh the risks? Experts say, "No."
In August 2017, Illinois Governor Bruce Rauner signed SB1676 into law, creating Public Act 100-0099, which aims to protect older adults from this very issue. SB1676 is a Home Health Agency Referrals amendment that seeks to protect consumers from unqualified home care referrals and unlicensed third-party caregivers. In short it states:
A hospital licensed under the Hospital Licensing Act, hospital operated under the University of Illinois Hospital Act, facility licensed under the Nursing Home Care Act, or health care provider licensed under any Act of this State that receives funds from the State may not refer a patient or the family of a patient to a home health agency, home nursing agency, or home services agency unless the agency is licensed under the Home Health, Home Services, and Home Nursing Agency Licensing Act.
This bill highlights a growing problem faced by older adults. When your safety or the safety of your loved one is on the line, can you be confident that you've entrusted the right person with your home care?
What are the Risks?
Individuals who hire unlicensed caregivers expose themselves to the greatest risks. So, it is important that you understand the potential consequences of hiring an individual privately. Not only are you responsible for conducting interviews and criminal background checks, but you will also need to find appropriate backup care in the event that the caregiver calls in sick or fails to show up for their shift. But there are serious financial risks as well:
Liability & Worker's Comp Insurance: Private caregivers rarely carry their own professional insurance. If a caregiver gets injured while working in the home, the homeowner may be responsible for paying their medical expenses and lost wages until they can return to work.
Bonding: Bonding protects from theft or breakage. Without it, you have limited or no protection. Unfortunately, there are people out there that are looking to take advantage of older adults. In April of this year, a private caregiver was charged with multiple felonies for allegedly stealing from the Barrington senior she was hired to care for, and this wasn't her first offense. In May 2016, she was charged with aggravated identity theft, unlawful possession of a credit card and theft from a senior living community. How well do you know the individuals you are entrusting with your care?
Taxes: When you or your family does the hiring, they are the employer. As such, they are liable for any Social Security taxes not paid, unemployment compensation not paid, and payroll taxes not withheld. Failure to comply with IRS regulations could result in civil fines of up to $100,000 and possible criminal penalties, including imprisonment for up to five years.
Hiring a private caregiver may seem like a less costly alternative to a private duty agency, however, it carries a far greater risk than most people may realize. Don't take chances with your safety or the safety of those you serve. Only look to qualified, licensed agencies for home care.
---

About LifeStyle Options
Founded in 1989, LifeStyle Options is one of the oldest and largest, licensed private duty home care agencies in Illinois. With over 300 highly experienced and trained homecare professionals, CNAs, and RNs on staff, they have earned a reputation for providing exceptional service to clients throughout the Greater Chicagoland area, enabling older adults to safely remain in the comfort of their own home.