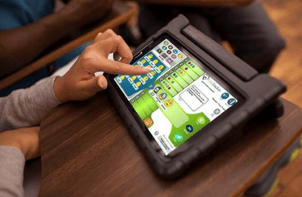 Technology isn't just about newer and better tools, it's about providing the responsive home care that has become our hallmark over the years.We use state of the art technology like our eCaring tablets to provide you with on-demand reporting, secure communication and better quality assurance. Our staff monitors and informs you of important changes to the health of your loved ones.

Since we first opened our doors nearly 30 years ago, my goal was to create an organization that makes a difference; a company that people can completely rely on to provide the best, most dependable home care services. As one of the oldest, distinguished and respected home care companies in Illinois, LifeStyle Options continues to work to earn that trust. LifeStyle Options has always operated in a health care model, and we make certain to work closely with the family and all medical professionals. Our staff is exceptionally well trained in basic health care information, and has many opportunities to choose advanced career paths in specialty areas such as Dementia. We are proud to be a local, Chicago-area company that is dedicated to meeting the needs of older adults throughout the Greater Chicago area, and we appreciate the opportunity to meet your needs and exceed your expectations.
-Molly K. Miceli, RN, BA


Mission
LifeStyle Options' mission is to provide reliable service of the highest quality to older adults throughout Chicago and suburbs, that encourages adults to be as independent as possible and to live at home with dignity, comfort and security. We take great pride in elevating the standards of Illinois senior home care.

Difference
Unlike the franchised agencies, LifeStyle Options has designed our services and policies to be client-focused.
NO finders fees or hidden costs
FREE initial Care Conference
24/7 Case Manager availability

Quality
We're proud to not only be a member of many professional associations, but we take a leadership role. We serve on the Leadership Committee for Home and Community Based Services of Leading Age Illinois. We have also long been accredited by the Better Business Bureau with an A+ rating, and every year, we receive the BBB President's "No Complaints" award.

Local
Since our founding in 1989, LifeStyle Options has been part of this community. We are NOT a franchise. As a local agency, we have a long standing, strong bond with our clients, their families and our community. Our local presence allows us to provide exceptional service throughout Schaumburg, Aurora, Elgin, Chicago, Northbrook, and everywhere in between.
LifeStyle Options Blog
Helpful caregiver tips, care resources, and lifesyle topics...you'll find them all on our blog