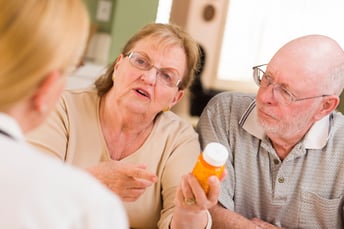 Older adults take more medication now than ever before. In fact, the average person over 65 takes between 2 and 7 prescription medications daily.
Almost 40 percent of all adverse drug reactions reported each year involve people over 60 years old. With aging, many body processes are altered and often slow down, affecting the way medications are absorbed, distributed, metabolized and excreted. These elements combine to create a greater risk of drug interactions, drug/food interactions, and side effects. Some medications will not work or have dangerous side effects when taken with other medications, and cognitive difficulties can interfere with the ability to remember when and how to take medications.
Our Professional Medication Management service takes responsibility for oversight of an individual's medications. Professional Medication Management is designed for individuals with multiple medications and/or cognitive or physical challenges that prevent good medication compliance.
How does Professional Medication Management work?
Our Professional Medication Management services are available throughout the Greater Chicago area. Contact Us to learn more.