Education and information are highly valued by older adults, however organizations often focus on providing information that's very different from what seniors actually want to hear. While casual activities are certainly a draw, should we overlook the more serious side of elder education?
What are older adults interested in? Specific Information. Today's seniors are seeking age-relevant information, that is often overlooked. Our decades of experience working with older adults have shown us that they are interesting in topics like: disease processes, medications & side effects, wills & estate planning, treatment decisions, and options for aging well….just to name a few.
LifeStyle Options is happy to provide presentations to your Chicago area retirement community residents at NO COST... presentations containing valuable information; information older adults want to hear. Over the years we have covered a variety of topics, including:
Challenging Ageism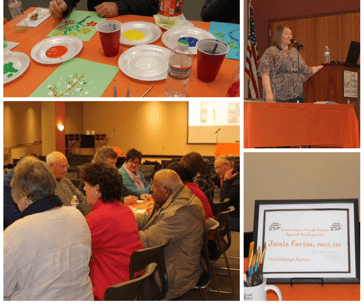 What assumptions do people make about older people? What can you do to challenge those assumptions?

Treatment Decisions for Older People
Do older people have to prove they are worth the investment when it comes to healthcare treatment? Are you being provided with all the options?
Images of Aging
If there's nothing wrong with being old, why do people attempt to look younger than they are? Age appropriate images go a long way.
The Third and Fourth Ages
What does being 'old' really mean? In this presentation, we look at the idea that often age has nothing to do with how old you are.
How to Handle Challenges of Dementia
Does your loved one exhibit symptoms of sundowning or cognitive impairment? Learn some basic techniques to help both you and your loved one.
If you are interested in learning more about how you can schedule a free, no obligation resident presentation at your senior living community, please fill out the presentation form provided on this page. We can cover any of the topics listed or tailor a presentation just for you!