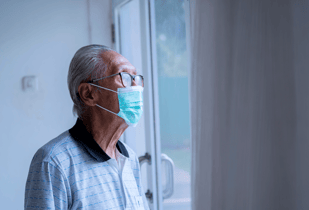 As COVID-19 cases continue to climb, social distancing remains an important tool for keeping the virus from spreading. While this is an essential step we should all be taking, it is especially important for older adults who are more susceptible to COVID.
But how do we keep ourselves and our loved ones physically healthy without it taking a toll on our mental health?
Combatting senior isolation has always been a challenge. We know that spending extended periods of time in seclusion not only leads to depression and anxiety, but can also shorten life expectancy. In fact, studies show that loneliness is more dangerous than obesity, and is "as damaging as smoking 15 cigarettes a day." Add to that a global pandemic, travel restrictions, retirement community lockdowns, and cold winter temps keeping people indoors, and we are faced with true crisis.
What can you do to prevent isolation during COVID?
Stay Active: A healthy body is important for a healthy mind. When you exercise, your body releases endorphins, chemicals that interact with the receptors in your brain, reducing the perception of pain and triggering a positive feeling in the body. A recent survey by The American Journal of Geriatric Psychiatry concluded that "that performing even light physical activity during the COVID-19 pandemic may help alleviate some of the negative mental health impacts that older adults may be experiencing while isolated." Take a short walk around the house or outside when the weather permits (always dress appropriately & watch for ice and potentially slippery surfaces.) You or your loved one may also want to try chair yoga or light stretching, lifting light weights, or turning on some music and having an at-home dance party. The point is to keep active and move periodically throughout the day.
Address Health & Household Issues: Health issues like vision and hearing loss can make individuals feel further isolated. Be sure to address any of these concerns with your or your loved one's physician. In addition, hazards around the home: excess clutter; rugs, cords or other trip dangers; etc. not only make it difficult to move safely and freely through your space, but they can contribute to higher levels of stress hormones. Creating a peaceful and organized space in the home can help foster that same peace and organization in the mind.
Leverage Technology: It has never been easier to connect virtually, and there are several user-friendly options for communicating with your loved ones. Regularly scheduled Skype, FaceTime or Zoom calls with friends and family members can help compensate for a lack of in-person contact. If you are coordinating virtual communications for your loved one enlist the help of others, and create a schedule for connection.
Encourage New Hobbies: Many of us are experiencing social distancing fatigue, but shifting the focus from the things you CAN'T do to the things you CAN do is essential to maintaining your mental health. This is a great opportunity to learn new skills or start a new hobby. Learn a foreign language, try your hand at origami, join a Facebook group, relax with adult coloring pages…there are lots of fun activities you can enjoy while sheltering in place. Focusing on things you enjoy can help prevent feelings of isolation and help you connect with others that share similar interests.
These are challenging times for all of us, and social isolation is an issue that needs everyone's attention and best efforts. AARP suggests making a list of local and national organizations that can help, like The federal Substance Abuse and Mental Health Services Administration, which has an online locator and hotline, at 800-662-HELP (4357) to help people find counseling services near them. If you are able, hiring a companion or caregiver for a few hours each week can create meaningful connection, alleviate feelings of isolation, and provide much needed support. If you need assistance in the Chicagoland area. LifeStyle Options is here to help! Contact us to learn more.
---

About LifeStyle Options: An Addus Home Care Company
Founded in 1989, LifeStyle Options is one of the largest licensed, private duty home care agencies in Illinois. With highly experienced and trained homecare professionals, CNAs, and RNs on staff, they have earned a reputation for providing exceptional service to clients throughout the Greater Chicagoland area, enabling older adults to safely remain in the comfort of their own home.