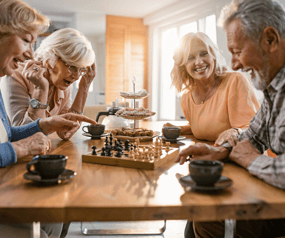 Senior housing occupancy in the United States reached a record low of 78.8 percent in the first quarter of 2021, which was a fall of 8.7 percent from the previous year. From staffing shortages to the pandemic, the industry has seen a number of challenges in recent years. Improving building census numbers continues to be a major focus of independent living communities, and Executive Directors and community administrators need to be proactive and finding creative ways to tackle these challenges and provide attractive options in this already competitive market.
While your sales team is working hard to fill vacancies, it's important to focus your attention on retaining the residents you already have. After all, statistics show again and again that efforts made to retain customers (or residents) are more successful and cost-effective than those aimed at attracting new business. So, how do you keep residents safe, happy and independent in your community? With more than 30 years serving senior living communities throughout the Chicagoland area, LifeStyle Options has some insider info on what buildings, like yours, are doing to retain residents and create strong communities. Here are the top 6 ways senior living building can improve resident retention rates:
Close the Feedback Loop: Every senior living community sees its share of resident complaints, but there is a clear distinction between those that value that feedback and those that see it as an inconvenience. Providing pulse surveys and clear avenues for sharing feedback allows your community to gather the actionable information necessary to resolve issues quickly – a key component in resident satisfaction. With any issue, keep residents in the loop, providing transparency as you are taking time to evaluate all information before responding.
Reprioritize Amenities: Your sparkling indoor pool and state-of-the-art fitness center look great in the sales brochure, but they may not be the most utilized amenities among your current residents. Where are your residents congregating? What areas of your building help foster a sense of community? Refocus your events and budget to better support the features in your community that your residents gravitate towards. Adding new books to your library, refreshing the puzzles & games in your rec room, or improving your snack bar selection shows residents that you're in tune with their needs and interests and are committed to making them feel more at home.
Create Community: We know that spending extended periods of time in seclusion not only leads to depression and anxiety, but can also shorten life expectancy. Creating a strong sense of community is important for keeping residents engaged and giving them a sense of belonging. Now that COVID vaccination rates are up and infection rates are down, communities are returning to activities, providing much needed opportunities for residents to socialize and enjoy community again. Encourage social interaction with a robust events calendar - resident-lead clubs, movie nights, monthly birthday celebrations, etc.
Promote Community Wellness: Maintaining independence with age is the goal for most residents. Providing programs that promote healthy living can improve your residents' quality of life and allow them to remain at home in your independent living community longer. From offering healthy snack & dining options, community fitness classes and walking clubs to guided meditation, weekly blood pressure checks, and monthly health & nutrition speakers – communities with strong retention rates are tuning into the needs of their residents and taking a holistic approach to wellness initiatives.
Support Transitional Needs: Independent living residents may find themselves needing some level of extra assistance many years before they are truly ready for a move to assisted living. Whether it's assistance with laundry, medication reminders, transportation to medical appointments, or added support following a hospital/rehab stay – providing your residents with options for care can mean the difference between keeping them safely in their home or losing them to a more skilled facility. LifeStyle Options is pleased to provide home care services throughout Chicagoland and Sun City, Arizona, as well partner with several Chicago-area senior living communities to provide on-site concierge care - giving resident access to home care visits in increments as little as 15 minutes.
Nurture Your Staff: Residents find their sense of community not only in each other, but also with your staff. High turnover rates with staff and residents often go hand in hand. When your team feels valued and supported, they have the energy to better care for and connect with your residents. Make sure staff members have the tools and resources to properly do their job, encourage communication and engagement, invite staff to participate in community events, and recognize them when they go above and beyond to serve the community.
The work of independent living communities is so important; which is why we continually look ahead to identify their changing needs and to best meet them. As the senior living industry continues to evolve, buildings that put their focus on resident retention and delivering the services and amenities that build strong community will continue to lead the way in elevating the industry standard.
At LifeStyle Options, we take pride in the many community partnerships we've developed over the years, and we welcome new opportunities to collaborate with senior living communities and individuals as we continue to fulfill our mission of serving older adults throughout the Chicagoland area and beyond. If you are looking to explore new options in 2022 that will help you attract & retain residents and elevate your service offering – we're here to help!
---

Founded in 1989, LifeStyle Options is one of Illinois' largest, licensed private duty home care agencies. With a staff of highly experienced and trained homecare professionals, CNAs, and RNs, they have earned a reputation for providing exceptional service to clients throughout the Greater Chicagoland area and Sun City, Arizona.
LifeStyle Options joined the Addus family of companies in 2018. This partnership allows LSO to continue to support older adults with the care and services they need to safely remain in the comfort of their own homes, while providing additional resources in home health, palliative care, and hospice.