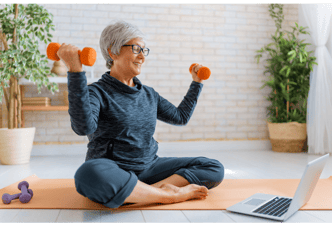 For many of us, staying active during the warmer months comes easily. Whether you take morning walks, swim laps, garden, or attend outdoor dance lessons, there seems to be no shortage of physical activities to enjoy. However, as the weather turns cold and the leaves disappear, so do the opportunities for comfortable outdoor recreation.
Although we may enjoy hibernating until spring, the fact remains that physically activity is essential to both physical and mental health, and the National Physical Activity Guidelines advise people to engage in 150 minutes of moderate-intensity physical activity each week. With indoor activities restricted due to COVID-19, older adults are finding more creative ways to stay active. Here are some fun ideas for getting physically active at home while sheltering in place:
Move & Multitask: Incorporating physical activity into your day is easy when you add movement to your normal routine. When your friend calls for your daily chat stroll around the house and talk instead of sitting. Get moving on a pedal bike while you watch your favorite show. Do some light stretches while you're waiting for the microwave. Even swaying to music while you fold laundry helps keep you physically active. Get creative and consider the ways you can add some movement to your day.
Tech Time: While you eagerly await returning to your local gym or in-person fitness classes, consider checking out free workouts online! YouTube offers a wide variety of fitness content, including chair yoga, Zumba for seniors, low impact aerobics, and more. Do you have a Nintendo Wii? While this gaming system isn't the newest and greatest, you can stay active by playing everything from golf to boxing to bowling. As always, be sure to consult with your physician before beginning any exercise routine.
Healthy Hobbies: Do your favorite activities get you up and moving? Do more of that! Healthy physical activity doesn't have to look like exercise in order for you to reap the benefits. Cooking a healthy meal or cleaning your house gets you on your feet. Dancing in the living room to your favorite music gets your heart pumping. Even crafting helps maintain dexterity and improves cognitive skills. Take time to enjoy more of the hobbies you love whether it's painting, starting an indoor garden or woodworking.
An active lifestyle not only helps you lose or maintain weight, but it also strengthens your muscles, improves balance & flexibility, and has benefits for your immune system and brain health. Isolation becomes increasingly prevalent during the winter months, and compounded with the threat of COVID-19, it has never been more important for older adults to stay engaged and active. For more ways to stay active during the pandemic, check out these other fun activities for sheltering in place. If you or your loved ones need additional support during these challenging times, we are here to help!
---

About LifeStyle Options: An Addus Home Care Company
Founded in 1989, LifeStyle Options is one of the largest licensed, private duty home care agencies in Illinois. With highly experienced and trained homecare professionals, CNAs, and RNs on staff, they have earned a reputation for providing exceptional service to clients throughout the Greater Chicagoland area, enabling older adults to safely remain in the comfort of their own home.