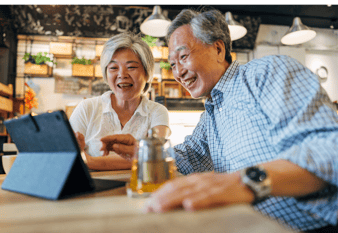 Limiting social contact, avoiding public gatherings, and staying home are essential for reducing exposure to COVID-19. The challenge for many older adults during this pandemic is figuring out how to safely socially distance without socially isolating. Lack of in-person contact is a major risk factor that has been linked with poor physical and mental health, especially in older adults. With so much at stake, proactive steps need to be taken in order to prevent social isolation during quarantine.
Fortunately, in today's digital age, there are lots of options for connection. Whether you are looking for COVID-friendly ways to celebrate a birthday or options for every day communication, we've compiled some creative ideas for older adults who want to stay virtually connected to loved ones during COVID-19.
Video Chat: Texts and calls from family and friend are wonderful, but there is something special about talking face-to-face. If you don't have video calling or FaceTime accessibility on your smartphone, there are other excellent options for video conferencing on your tablet, laptop or PC. Video chat platforms like Zoom, Google Hangouts, and Skype offer excellent features for everything from one-on-one chats to large online gatherings. Older adults may find Google Hangouts to be a little more user-friendly, and there are no time limit on chats. You can find out more about the various chat platforms here.
Creative Virtual Gatherings: Once you and your loved ones get familiar with your preferred video chat platform, you can get more creative with your FaceTime get-togethers! Host a virtual dinner party, read books allowed to your grandchildren (or have them read to you!), enjoy a virtual museum tour, bake or do a craft together, stream a movie, or play fun online games.
Facebook Groups: If you have an interest or hobby, there is probably a Facebook Group for it! Get connected with an online book club, recipe sharing collective, meditation group, or other online community of likeminded people. You can also create your own Facebook groups. Start a private group for family or friends, or launch a group for older adults in your community to connect. Learn about how to setup a Facebook Group here.
Send a Virtual Hello: When life gets hectic, and you can't jump on a video call or text back and forth, there are some creative ways you can send a virtual "hello" and let your loved one know you are thinking about them. WiFi enabled photos frames, like the Skylight Frame, allow you to email photos, and they will appear on the digital frame display within seconds. Long-distance friendship lamps are also a fun way to stay connected. Place one lamp in your home and one in your loved one's home. The lamps sync up, so when you touch your lamp to change the color, your loved one's lamp also changes colors, letting them know you are thinking about them.
There may be a learning curve to mastering some of these ways of virtually connecting, but it is well worth the effort. Although we may not be able to gather with our loved ones in person, it is so important that we take the time to reach out and show how much we care. We could all use a little more positive connection this year.
---

About LifeStyle Options: An Addus Home Care Company
Founded in 1989, LifeStyle Options is one of the largest licensed, private duty home care agencies in Illinois. With highly experienced and trained homecare professionals, CNAs, and RNs on staff, they have earned a reputation for providing exceptional service to clients throughout the Greater Chicagoland area, enabling older adults to safely remain in the comfort of their own home.