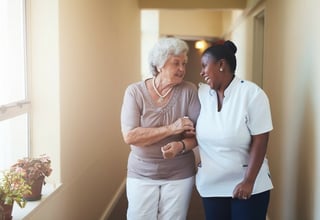 40% of adults age 65 and up need daily assistance, and 70% will need it at some point. However, knowing when it's time to hire a caregiver isn't always clear. Often people wait until after an injury or incident occurs before they consider in home care services. Unfortunately, waiting too long can mean more care is required, and that can limit your choices. Staying home is an option when the appropriate care is provided. So, look for the signs, and take a proactive approach to your or your loved one's in-home care needs.
What to Look For...
Balance Issues: Does your parent or loved one experience pain when they walk, sit, or rise from a resting position? Do they drag their feet when they walk or appear unsteady? If you notice any of these signs, they may be a fall risk. Each year more than 1.6 million older U.S. adults go to emergency departments for fall-related injuries. Also, be on the lookout for any unexplained bruises that could be a sign of past falls or injury.
Forgetfulness: While mild forgetfulness is a normal part of aging, chronic missed doctors' appointments or late bill payments could be a sign of a more serious problem. If you are worried that your loved one may have memory issues, be sure to consult their doctor.
Dangerous Driving: Have you noticed new vehicle damage, unsafe driving, or an aversion to driving? Loss of driving privileges can feel like a loss of independence, and many older adults are reluctant to hand over their car keys without a loved one's intervention.
Missed Medication: Up to 75% of older adults reportedly make some kind of error taking meds. This can be a sign of short-term memory loss or depression. Regardless, it poses a serious risk, and supervised medication reminders may be required.
Decline in Personal Care: Wearing the same clothes for days at a time, putting off showers, and other hygiene issues are signs that your loved one is having difficulty managing their personal care.
Decline in Home Environment: Whether it's expired food in the refrigerator, unopened mail, laundry piling up, or general clutter, a decline in the home environment might indicate that your loved one is physically unable to keep up with household chores.
Depression or Loneliness: 43% of seniors report feeling lonely. While your loved one may be capable of living on their own, loneliness can take a serious toll on a person's physical and mental health. If your loved one is spending much of their time in front of the TV, has lost interest in activities they once enjoyed, or is exhibiting other signs of depression, they may benefit from companionship care.
Family Caregiver Stress:

When we care for others we often forget to care for ourselves. There are

ways to help manage caregiver stress,

however, sometimes we need to accept that we can't do it all on our own. Avoid caregiver burnout and take advantage of respite care when you need it.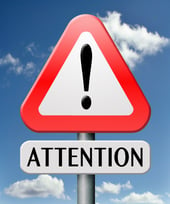 If your loved one is displaying one or more of these signs, it's time to have a serious discussion about hiring a caregiver. This can be a difficult conversation, especially if they are resistant to care, but it is important to recognize that home care services and adult day care programs can enhance independence and allow them the option of remaining in the comfort of their home as long as possible. Make aging in place a priority, and check out all of your home care service options.
For additional home care information and resources