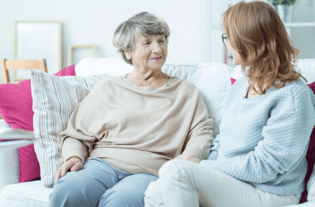 Missed medications...a decline in the home environment...loneliness - there are many signs it's time to hire a an in home caregiver, but how do you know which home care agency to choose? Whether you take a home care recommendation from a friend, check out online reviews, or consult your physician for a referral, there is no substitute for doing your own research. While policies and procedures vary from agency to agency, these are the questions you should be asking every home care provider you interview:
Are you licensed?
Home care licensing requirements vary by state, and it's important to familiarize yourself with the regulating body for home care in your area. For example, in Illinois, home care licensing is managed through the Illinois Department of Public Health (IDPH.) Note: a home care license is different than a business license, and requires additional oversight. Beware of agencies that operate as 'registries,' outsourcing cases to private caregivers to avoid the rules and regulations of a home care license. A reputable agency will take no issue with sharing their licensing information and compliance survey results.
Do your caregivers undergo a full criminal background and reference check?
Caregivers are entrusted with the health and well being of vulnerable individuals who are unable to care for themselves. Background checks ensure that the individual you hire to care for yourself or your loved one does not have a history of abuse, neglect, fraud, or other convictions. Each state sets its own rules for running background checks on health care workers. So make sure your agency is conducting a criminal search as well as a comprehensive check of employment history and references on all employees.
What type of initial and ongoing training is provided to caregivers?
In most states, there are no education or training requirements for providing non-medical services (light housekeeping, transportation, companionship, meal preparation etc.) If you or your loved one has a specialized need or is facing a chronic condition, like dementia, diabetes, etc. make sure your agency properly trains their staff to address them.
Do you hire caregivers on waivers?
The Health Care Worker Background Check Act [225 ILCS 46], an Illinois State law, prevents many health care employers from hiring an individual who may have access to older adults, their living quarters, or their financial, medical, or personal records, if the individual has certain criminal convictions. However, the Act does allow an employer to hire an individual with a disqualifying conviction as a direct care worker if he or she is granted a Health Care Worker Waiver by the Illinois Department of Public Health. The employee doesn't have to disclose what the conviction was for, only that they now have a waiver for employment. Note: agencies that work with Medicare/Medicaid may be required to hire caregivers on waivers by the state. Learn more about waivers here.
What happens if the caregiver provided is not a good fit?
Making the right match between client and caregiver may not happen on the first try. Make sure your agency has a caregiver roster large enough to accommodate your needs should you require a different caregiver.
What happens of my caregiver is sick or doesn't show up?
Illness is often unavoidable, and even the best caregivers need to take a sick day every once in a while. Agencies should have a plan in place so they can minimize the interruption to client care in the event that a caregiver calls off.
What if I have a need or concern after-hours?
Home care agencies handle after-hours needs differently. Some utilize an answering service, while others employ a messaging system. Ideally, your agency should provide you with access to a staff member (not a call center) 24/7. After-hours needs are not uncommon. So, be sure the agency's method for managing them works for you.
If you are in the Chicagoland area, and in need of home care services for yourself or your loved one, LifeStyle Options welcomes you to ask us these questions, and any others you may have. Regardless of which agency you select, always be sure to do your due diligence before starting care.
---

About LifeStyle Options
Founded in 1989, LifeStyle Options is one of the largest licensed, private duty home care agencies in Illinois. With highly experienced and trained homecare professionals, CNAs, and RNs on staff, they have earned a reputation for providing exceptional service to clients throughout the Greater Chicagoland area, enabling older adults to safely remain in the comfort of their own home.