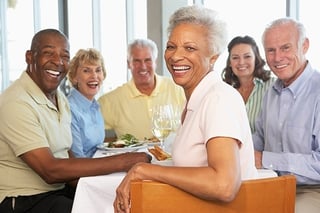 As the Harvard Business Review wrote in 2012, there is a secret phrase top innovators all over the world use to launch new products, social movements, and ideas…How might we? The article goes on to quote, Tim Brown, CEO of the design firm IDEO, explaining why:
HOW: Assumes there are solutions out there - it provides creative confidence.
MIGHT: Acknowledges that the ideas we dream up might or might not work. That's okay. We are willing to take chances.
WE: Defines the process as a team effort where we build on each other's ideas.
Recently Senior Planet, an organization that celebrates aging by sharing information and resources that support 'aging with attitude', posed this question to the older adult community:
How might we improve aging in America?
They encouraged people to respond by suggesting a challenge they care about, and the results were powerful. People asked, how might we…
change housing to create more community?

create ways for us to fall in love – or simply date – later in life?

celebrate longevity rather than fearing age?

feel less invisible?

make our world a better place to grow old in?

facilitate intergenerational interactions to combat senior isolation?

address the needs of "fresh" seniors who may still be working while meeting the needs of their aged parent?
These are important questions that need to be addressed for the health and well-being of our growing older adult community. In fact, 30% of people in developed countries will be over 60 by 2030. As those that serve older adults, we can be the innovators that bring change, but we need to take an active role in developing solutions, not just by enhancing the care and services we provide, but by changing the conversation around aging.
What can you do?
For starters, you can pose the 'how might we' question to your organization. What specific issues are important to your business or community and how can you work together to develop creative solutions?
In addition, you can empower your staff and the older adults you serve to continue the conversation by providing education and resources that address ageism and the challenges it brings. LifeStyle Options can help! We are happy to provide presentations to your Chicago area retirement community residents at no cost...presentations containing valuable information; information older adults want to hear. Topics include: Challenging Ageism, Images of Aging, or we can tailor something specifically for your residents.
Let's all commit to making a difference in the way people perceive aging. So the question is:
How might we become agents of change in the Chicagoland area? We're in this together!
---

About LifeStyle Options
Founded in 1989, LifeStyle Options is one of the oldest and largest, nurse owned & operated private duty home care agencies in Illinois. With over 300 highly experienced and trained homecare professionals, CNAs, and RNs on staff, they have earned a reputation for providing exceptional service to clients throughout the Greater Chicagoland area, enabling older adults to safely remain in the comfort of their own home.