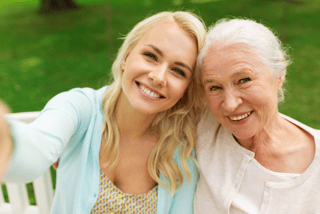 Whether you have a loved one with dementia or work in a hospital or facility that provides memory care, how you communicate with those who have a dementia diagnosis can greatly impact their quality of life. Here are a few common mistakes people make when speaking to someone with memory loss and steps you can take to improve how you relate…
Don't Say: "Do you remember________"
There is a myth that "quizzing" someone with dementia will help them to retain memories, but that simply isn't true. Even when approached gently, pressing someone with dementia to recall past or current events, friends or family can lead to stress, anxiety, embarrassment, and even anger.
Instead: say "I remember ________"
If they remember as well, it may spur a conversation. If not, you can move on to another subject without creating undue uneasiness.
Don't Say: "You're wrong"
Arguing with someone who has dementia is not only futile, it can be destructive. You aren't going to 'win' the argument, and you run the risk of upsetting them or causing an outburst.
Instead: change the subject
Avoid the dispute and redirect the person's attention to something pleasant or a topic they are interested in. The goal is to get them to move on to another subject and forget the disagreement.
Don't Say: "I already told you"
Answering the same questions over and over can be frustrating, but it's important that you never blame the person with dementia for their cognitive decline.
Instead: answer politely
Always respond in a respectful manner, and avoid bringing up topics that you know will be upsetting.
Don't Say: "He died 5 years ago"
It's not uncommon for people with dementia to believe their deceased spouse, parent, or loved one is still alive. In fact, they may express concern that the person doesn't come to visit.
Instead: just listen, and change the topic when appropriate
Telling them that the person is deceased may feel like they are hearing the news for the first time, and they are likely to soon forget and go back to believing their loved one is still alive.
Stay in the present moment, and avoid asking questions about the past

Don't refer to those with dementia as "sufferers" or "victims"

Don't assume they are unable to answer for themselves.

Avoid reducing the individual to a label: "aggressive", "wetter", "wanderer", etc.

Don't blame the person for changes in their behavior or personality.

Be mindful of sundowning.

Don't assume that because they are unable to communicate that your words or actions don't hurt their feelings.
The stigma of dementia is learned. It is vital that those of us who work with men and women with dementia set the example for how to communicate in a way that preserves the individual's dignity. If you need assistance with dementia and Alzheimer's care in the Chicagoland area, LifeStyle Options is here to help.
---

About LifeStyle Options
Founded in 1989, LifeStyle Options is one of the oldest and largest, nurse owned & operated private duty home care agencies in Illinois. With over 300 highly experienced and trained homecare professionals, CNAs, and RNs on staff, they have earned a reputation for providing exceptional service to clients throughout the Greater Chicagoland area, enabling older adults to safely remain in the comfort of their own home.