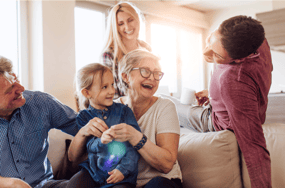 Note: This blog is for informational purposes only. Please do your own due diligence in exploring all the options available to you.
Most Americans don't think about costs of home care, until those services are needed. Unfortunately, that need can arise quite suddenly, leaving older adults and their loved ones scrambling to make important financial decisions during an already stressful time. If you find yourself in this situation, you're not alone. Whether you are considering a few hours of home care each week or are looking for 24/7 care, there are some creative ways you can help offset the costs and secure the quality care you or your loved one need. Let's explore the options:
Long-Term Care Insurance & Annuities: If you don't yet carry long-term care insurance, you may have a challenge securing it now. Most policies have a disqualifying age, after which you cannot purchase coverage. However, if you do have long-term care insurance, it may offer some level of in-home care. Be sure to review your policy with your insurance agent to see what's covered. Likewise, annuities, an investment vehicle primarily used as an income stream for retirees, can be applied towards your home care costs. If you have an annuity that is matured or about to mature, be sure to talk to your financial advisor.
VA Benefits: Veterans may be eligible for military benefits, helping to cover the costs of in-home care. In order to qualify you must have served a minimum of 90 days of active duty (with one of those days being during wartime) and have an honorable discharge. VA benefits can be challenging to obtain. So, if you or your loved one qualify, you will want to start the process as soon as possible. Learn more about available benefits through the U.S. Department of Veteran Affairs.
Reverse Mortgage: Designed specifically to help older adults remain in their homes, a reverse mortgage allows you to tap into your home's equity and use that money towards living expenses and care. In order to qualify, you must be 62 or older, and own your home outright or have little left on your mortgage loan. As always, be sure to consider all of your options carefully and work with a reputable lender when securing a reverse mortgage.
Liquidate Assets: As needs change, you may want to consider what assets you or your loved one have that can be liquidated to cover the costs of care. Of course this option isn't right for everyone, however, it's worth considering if you have investment properties or other high-value assets.
Cost-Sharing: Adult children and/or close family members often pool together their resources to help cover the costs of care. Developing a sound cost-sharing strategy requires clear communication, and when sitting down to have these conversations, it's important to review not only your loved one's current care needs, but any future needs that may arise.
Coordinating Resources: Home care isn't one-size-fits all. Everyone has different needs and a different set of resources. It's important to look at the full scope of options available and consider how you might coordinate multiple resources to ensure your or your loved one's care needs are met. For example, you may utilize a family caregiver a few days a week, take advantage of a local adult day care program and/or home health order, and rely on private duty home care services to fill in the gaps.
If you are in need of home care in the Chicagoland area, we would be happy to provide you with more information and a custom care quote. LifeStyle Options has proudly served older adults, helping them remain safe and independent at home for more than 30 years. We are here for you!
---

About LifeStyle Options: An Addus Home Care Company
Founded in 1989, LifeStyle Options is one of the largest licensed, private duty home care agencies in Illinois. With highly experienced and trained homecare professionals, CNAs, and RNs on staff, they have earned a reputation for providing exceptional service to clients throughout the Greater Chicagoland area, enabling older adults to safely remain in the comfort of their own home.